Regular Joe's Recommended Upcoming Local Events in the Green Bay Area
Regular Joe's Recommended Upcoming Local Events in the Green Bay Area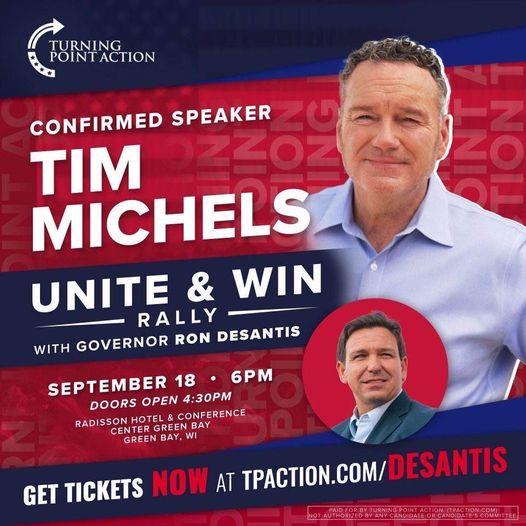 Radisson Hotel & Conference Center Green Bay
2040 Airport Drive
Green Bay, WI 54313
Get your free tickets here: https://www.eventbrite.com/e/unite-win-rally-wisconsin-tickets-416182602367
---
The Wisconsin Conservative Coalition, WCC, of which N.E.W. Patriots is a member, will be holding a"WCC Legislator Town Hall"
Location: Lawrence Town Hall, 2400 Shady Court, De Pere WI 54115
Date: Saturday, September 17th. Social/ light refreshments at 8:30 a.m. Town Hall  9-11 a.m.
We will engage in a moderated discussion with area State Legislators. 
The public is invited and there is opportunity for Q&A.This is the 15th WCC Town Hall and the three topics that we have chosen for discussion are: 
1) Reining in Wokism in WI Schools 
2) Election Integrity 
3) Legislative Response to Riots and Mass shootings.
For more info visit wi-cc.com 
---
Senator Ron Johnson on Friday, Sept 23rd!
Location: Rock-K-Ranch, 2372 Day St, Greenleaf WI 54126 
Date: Friday, Sept 23. Our meeting will start at 5:45 pm sharp! 
Check out more about Sen. Ron Johnson at: Wisconsin Facts- Just the Truth:  wisfacts.com and share this website widely!!!
---
N.E.W. Patriots WI Attorney General Candidate Forum
EVENT DATE: 
Tuesday, July 19, starting at 7 pm
EVENT LOCATION:
Lawrence Town Hall, 2400 Shady Court, De Pere WI 54115

 These Attorney General candidates will be attending:
Karen Mueller (R), Eric Toney (R) and Matthew Bughman (L).
 
Still no firm response from Adam Jarchow (R) (or incumbent Democrat Josh Kaul….)

The Attorney General is the state's top law enforcement official!

 On July 19th YOU get to ask all the questions of these candidates!