THURSDAY, JUNE 10: Regular Joe to Speak at No Better Friend Corp.'s "Backing the Badge" Event in Green Bay
THURSDAY, JUNE 10: Regular Joe to Speak at No Better Friend Corp.'s "Backing the Badge" Event in Green Bay
On Thursday, June 10, 2021, Regular Joe will join Kevin Nicholson and his No Better Friend Corp. for the Green Bay stop in their "Backing the Badge & Building Bridges Tour" at Pamperin Park.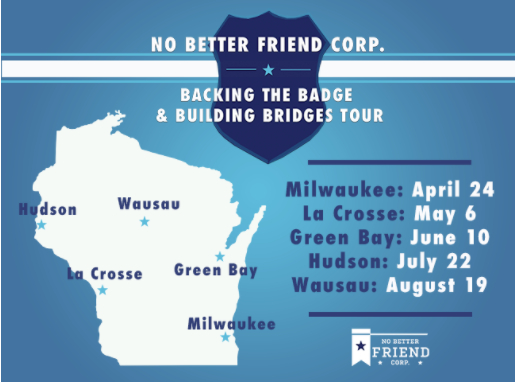 Please join me and the No Better Friend Corp to help us celebrate the brave law enforcement professionals serving and protecting us every day. Police officers' countless courageous and selfless acts normally go unnoticed by the news and public. Generally, the only time the mainstream media covers this all-important work is when they use the story to further their negative narrative about law enforcement.
So we hope you'll take this opportunity to come out and show your support for the thin blue line that separates an ordered society from chaos. Space is limited, so please reserve your FREE tickets by visiting here. A complimentary dinner will be served at 6:00 p.m., and the main program will run from 7:00 – 9:00 p.m.
EVENT DETAILS:
WHO:  Regular Joe Giganti, Kevin Nicholson and No Better Friend Corp.
WHAT: Backing the Badge & Building Bridges Tour – Green Bay Stop
WHEN: Thursday, June 10, 2021 | 6:00 p.m. dinner 7:00 – 9:00 p.m. event
WHERE: Pamperin Park | 2801 County Road RK | Green Bay, WI 54303
COST: FREE & open to the public, but space limited. Reserve your tickets here.
The following is the current lineup of speakers:
Kevin Nicholson, Volunteer President & CEO – No Better Friend Corp
Joe Giganti – Host, The Regular Joe Show
Alderman Bob Donovan – Milwaukee City Council
Sheriff Adam Bieber – Shawano County
Sheriff Matt Joski – Kewaunee County
Sheriff John Matz – Winnebago County
Sheriff Todd Delain – Brown County
President Ryan Windorff – Wisconsin Fraternal Order of Police
District Attorney Eric Toney – Fond du Lac County
Professor Owens – UW Madison
I hope to see you there!