SATURDAY, APRIL 24: The Republican Party of Langlade County's Lincoln Dinner to Feature Talk by Regular Joe and a Keynote Address from Sen. Ron Johnson
SATURDAY, APRIL 24: The Republican Party of Langlade County's Lincoln Dinner to Feature Talk by Regular Joe and a Keynote Address from Sen. Ron Johnson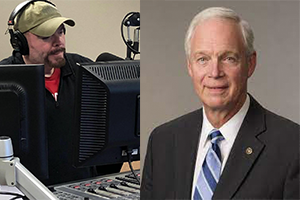 On Saturday, April 24th, the Republican Party of Langlade County will hold a dinner in honor of President Abraham Lincoln and the beloved political party that sprung from his presidency.

Regular Joe will be the featured speaker along with a keynote address from one of the most stalwart defenders of conservative values in Wisconsin, Sen. Ron Johnson. The evening will be emceed by former WSAU morning show host and current State Representative Pat Snyder. It will feature additional remarks from Rep. Tom Tiffany (R-WI, 7); former Lt. Gov. Rebecca Kleefisch, Wisconsin State Assembly Campaign & Elections Chair Janel Brandtjen; State Senators Mary Felzkowski and Patrick Testin; and Assemblymen Calvin Callahan and Jeff Mursau.
UPDATE: Get your tickets now! As of April 9, 2021 there are only 21 seats left. Tickets are $35 per person and a private table of 8 is only $400.
EVENT DETAILS:
WHO: Republican Party of Langlade County
WHAT: Lincoln Day Dinner
WHERE: North Star Lanes Banquet Hall | 400 Prosser Place, Antigo, WI
WHEN: Saturday, April 24, 2021 | 5 p.m. Reception in Bar Area | 6 p.m. Dinner & Program
For more information, check out the link: https://rplc-langlade.com/lincoln-day-dinner