REGULAR JOE'S RECOMMENDED FEBRUARY EVENTS IN NORTHEAST WISCONSIN
REGULAR JOE'S RECOMMENDED FEBRUARY EVENTS IN NORTHEAST WISCONSIN

N.E.W. Patriot's invite you to the De Pere Cinema, where we'll enjoy a showing of Climate Hustle.
Monday, February 27
doors open at 6:00 p.m.
movie starts at 6:30 p.m.
we'll finish about 8:00 p.m.
De Pere Cinema, 417 George St, De Pere, WI 54115
It's roughly 70 minutes of information AND entertainment! You can watch a brief trailer here: https://www.youtube.com/watch?v=ctnAeubr5Go
This Climate Hustle trailer should pique your interest!
Produced by the Committee for a Constructive Tomorrow (CFACT) and hosted by investigative journalist (and amateur stand-up comedian) Marc Morano, Climate Hustle "leads viewers on a fact-finding and often-hilarious journey through the propaganda-laced world of 'climate change' claims." It says the so-called "scientific consensus" is actually an "environmental con job being used to push for increased government regulations and a new 'Green' energy agenda."

Morano narrates the movie, which features "cameo" appearances by climate alarmists Al Gore, Kenosha native Mark Ruffalo (aka The Hulk), and Sen. Sheldon Whitehouse, as well as climate scientists Sallie Baliunas, Bob Carter, John Christy, Judith Curry, Will Happer, and at least a dozen more!

PLEASE BRING YOUR KIDS! You suspect they're mostly being brainwashed in their regular classrooms – how about providing them with some counter-programming? We're offering FREE POPCORN and SODA to all young people in attendance … because every movie is better with kids and popcorn, right?

[Note: You know your children better than we do. We think this movie is appropriate for young people age 12+, but if your younger ones are wicked smart, they might enjoy it too!]
We hope to see you this Monday at 6:30 p.m. in the super-comfy seats at De Pere Cinema for Climate Hustle. You'll laugh. You'll shake your head. You'll eat popcorn or other wonderful snacks and have a great time!
 
Monday, February 27
doors open at 6:00 p.m.
movie starts at 6:30 p.m.
we'll finish about 8:00 p.m.
De Pere Cinema, 417 George St, De Pere, WI 54115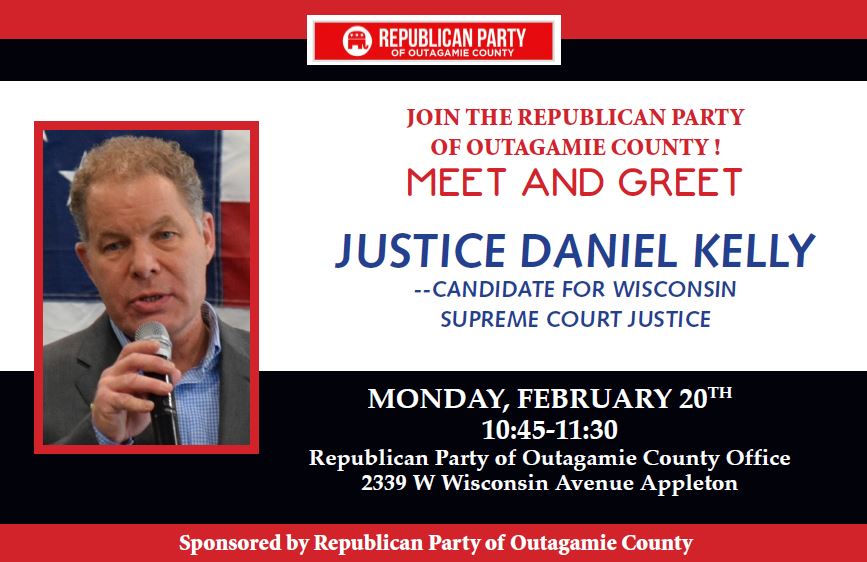 Will You BE OURS on Valentine's Day?
At least for a couple hours?
In the evening?
It's important, Patriots!

On Tuesday, February 14, NEW Patriots will host its State Supreme Court Candidate Forum from 7:00 to 9:00 p.m. at the Lawrence Town Hall. We sincerely hope you'll JOIN US that evening!

The Spring Primary Election is coming up on Tuesday, February 21. Statewide, the KEY RACE on the ballot is for State Supreme Court. (Locally, the Green Bay mayor's race will be HUGE, too; more on that in a few days …)

Four candidates are on the primary ballot for State Supreme Court; the top two vote-getters will be on the April 4 General Election ballot.
Two of the four State Supreme Court candidates – Judge Jennifer Dorow and Justice Dan Kelly –have confirmed their plans to participate in the NEW Patriots' February 14 event. Judge Janet Protasiewicz and Judge Everett Mitchell have been invited but have not agreed to join us.

This forum – being held just one week before the primary election – may be your final chance to hear the candidates explain why they should be your choice to fill the single vacancy on the Wisconsin Supreme Court. The candidates will be given a few minutes to introduce themselves and explain their candidacies. After that, questions to each candidate will come from the audience.

Please join us, and bring family, friends, and especially that SPECIAL SOMEONE – the one who needs to be encouraged to vote in this important primary!

Event Details:
What: N.E.W. Patriots Monthly Meeting
When: Tuesday, February 14th,7:00-9:00 pm
Where: Lawrence Town Hall | 2400 Shady Court | De Pere, WI 54115
Fox Valley Initiative Meeting on Monday, February 6th, 6:30pm
Here is what is happening at our next FVI meeting on Feb. 6th, at Freedom Project Academy at 750 N. Hickory Farm Lane, Appleton, starting at 6:30pm.
We have four local candidates telling us about themselves and asking for our support and vote.
There are two seeking the Appleton School Board, one Appleton city council and one running for Outagamie County Executive. The Appleton City Council and Outagamie County Executive candidates are on the primary ballot on Feb. 21st.
Duke Pesta. Exec. Director of Freedom Project Academy, will also speak briefly about an important Appleton School Choice event happening on Feb. 27th that will allow more parents to enroll their children into the WI School Choice Program. This should be of value to parents wanting to remove their children from our public schools.

Jefferson Davis, Spokesperson of Election Integrity for the Wisconsin Ad-Hoc Committee, who attended some of meetings in early 2022, will be speaking on where Wisconsin is at on 8 different voter integrity issues. The following issues developed over the last two years, along with WI Supreme Court decisions will be discussed by Davis:
Learn how the Democrats orchestrated 8 points to trigger the biggest election steal in WI history.
The Zuckerberg Constitutional Amendment
Scrubbing my vote WI
WI Supreme Court ballot drop box decision
Do we have to use electric voting machines?
What about special voting deputies to nursing homes?
How does the ERIC, Electronic Registration Information Center Move List, get resolved?
Who qualifies for indefinitely confined designation?
LAST and most important don't forget that in 2.5 weeks we all have to vote for who will be our WI Supreme Court candidates on April 4th. There are four on the ballot in two weeks.

Event Details:
What: Fox Valley Initiative Monthly Meeting
When: Monday, February 6th, 6:30 pm
Where: Freedom Project Academy | 750 North Hickory Farm Lane | Appleton, WI