Regular Joe's Recommended October Events in Northeast WI
Regular Joe's Recommended October Events in Northeast WI
TUESDAY, OCTOBER 18th, 7:00-9:00 pm: N.E.W. Patriots host a Legislator Candidate Forum at the Lawrence Town Hall, 2400 Shady Court, De Pere, WI.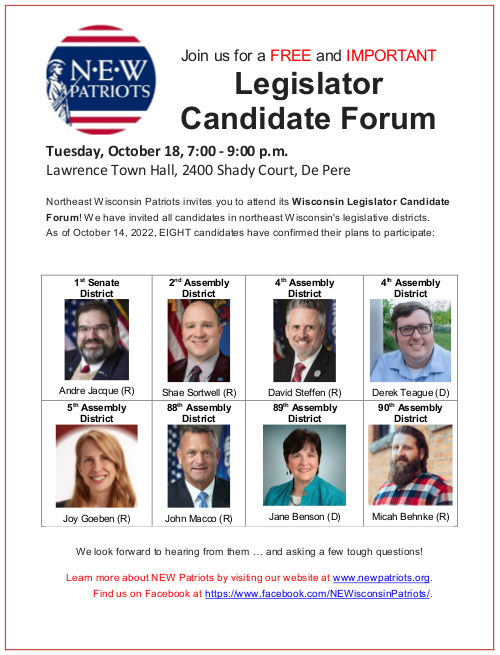 Evening with U.S. Senator Ron Johnson and a Candidates' Panel
Sat Oct 1st 5:00pm – 8:00pm
NE-WisconsinFox-Valley-Initiative
Freedom Project Academy, 750 N Hickory Farm Ln, Appleton, WI 54914, USA
APPLETON —- Fox Valley Initiative (FVI) sponsors opportunity to hear from U.S. Senator Ron Johnson and several candidates for state office on Saturday evening, October 1 . Assisting with this event are Free Speech for Campus (FSFC) and Freedom Project Academy (FPA). Dr. Duke Pesta will moderate.

Doors open at 5:00 pm and will close when building capacity is reached.

6:00 Panel introductions
Eric Toney, WI Attorney General candidate
Dan Kelly, WI Supreme Court candidate
Dave Murphy, WI Assembly Candidate
Nate Gustafson, WI Assembly Candidate
Joy Goeben, WI Assembly Candidate
Dean Neubert, WI Assembly Candidate

6:30 U.S. Senator Ron Johnson to speak

7:00 Senator Johnson departs, panel discussion continues with audience questions. Your questions will be submitted on cards to maximize the number of questions we can present.We look forward to your participation SATURDAY!