*UPDATE* Event Postponed** FRIDAY, OCTOBER 7th, 5:00-9:00: Country Singer Trey Taylor Hosts a Concert Fundraiser for Candidate Adam Steen at the Integrity Celebration Center in Burlington
*UPDATE* Event Postponed** FRIDAY, OCTOBER 7th, 5:00-9:00: Country Singer Trey Taylor Hosts a Concert Fundraiser for Candidate Adam Steen at the Integrity Celebration Center in Burlington
Show your support for Adam Steen, write-in candidate running in the 63rd Assembly District. He is running against our current Speaker of the House-the effeminate Robin Vos.
Country Singer Trey Taylor will be hosting a fundraiser concert for Adam Steen's campaign FRIDAY, OCTOBER 7TH!

More details to come but those who have also been invited are:
Captain Seth Keshel
Representative Janel Brandtjen – Wisconsin's 22nd Assembly District
Justice Michael Gableman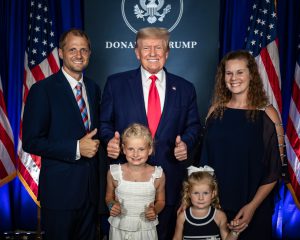 ---
Event Details:
What: Country Singer Trey Taylor to host a fundraiser concert for Adam Steen, Candidate for the 63rd Assembly
Where: Integrity Celebration Center in Burlington, WI
When: Friday, October 7th
VIP Entrance 6:00 pm
Concert starts at 7:30 pm
Cost: VIP-$500 Individual & $850 Couple
General Admission-$100 Individual & $175 Couple
Tickets: Here!
100% of the proceeds will benefit the Adam Steen Write-in Campaign. Thank you for your support.