Regular Joe's Recommended Upcoming Local Events in the Green Bay Area
Regular Joe's Recommended Upcoming Local Events in the Green Bay Area
Tuesday, September 20th from 3:00 to 6:00 p.m.: The Republican Party of Brown County Election Integrity Chairwoman Sandy Juno will hold a meeting at the Brown County headquarters at 1780 Allouez Avenue.
To help members create a statement of empowerment for election observers.
We encourage all election observers and members of the party to consider testifying at this important meeting of the Wisconsin Elections Commission. For further information please contact Sandy juno at junosandra@yahoo.com
___________________________

Wednesday – Sept. 21, 2022 9 AM: Wisconsin Election Commission Regular Meeting
You are invited to Quarterly Regular Meeting of the Wisconsin Election Commission
AGENDA
Open session will be very interesting as the Commission discusses:
E. Post 2022 Election Electronic Voting Equipment Audit Guidelines
F. Update Elec Security .gov subgrant – 2022 Election Security Subgrant
G. 4-year Voter Record Maintenance Process
H. Unlawful Absentee Request Activity
I. Scope Statement on Election Observers for Governor's Approval
J. 2022 General Election Preparations
K. ERIC Processes – Update
L. Voter Felon Audit Report
M. Commission Staff Update
N. Closed Session
See All Open Meetings Materials – Click Here lots of good info here – click above!
JOIN ZOOM MEETING – CLICK HERE Meeting Code ID: 817 8970 2262 Pass Code, if Necessary 555314 https://us06web.zoom.us/j/81789702262?pwd=QjQ3TnpVa25MK2RFcTM2akhMUUQxUT09 or by Phone: US: 1 312 626 6799 MEETING CODE ID: 817 8970 2262 Pass Code 555314 See on Wis Eye @ 9 AM Wed SEE ON Wisconsin Eye Click Here https://wiseye.org/schedule/ ************************************************ INSTRUCTIONS FOR PUBLIC COMMENTS: Each speaker will be given a maximum of three minutes, and the Chair of the Commission will call on as many speakers as possible. Members of the public who wish to address the Commission should email electioncomments@wi.gov with the words "Request to Speak" in the subject line. The deadline to submit requests is 4:00 p.m. on Tuesday, September 20, 2022. In the body of your email, you must provide the following information: 1. Your name 2. Your telephone number 3. Indicate whether you will be joining via Zoom or calling in via telephone a. If you are joining via Zoom, your name as a Zoom attendee must appear the same as the name provided in this email so that we can find you to unmute you. b. If you are joining by phone, your phone number must appear the same as the phone number provided in your email to us It is the speaker's responsibility to ensure that the name or telephone number listed for them in the Zoom attendee gallery match exactly with the name and telephone number they provided in their request to speak. Failure to do so may prevent those individuals from having an opportunity to speak entirely. Members of the public can also submit written comments to the Commission by emailing electioncomments@wi.gov with the words "Message to Commission" in the subject line. Please include your written comments in the body of your email. Click Below to Join: https://us06web.zoom.us/j/81789702262?pwd=QjQ3TnpVa25MK2RFcTM2akhMUUQxUT09 OR By telephone: US: 1 312 626 6799 MEETING CODE ID: 817 8970 2262 Pass Code 555314 One tap mobile: 16465588656,,81789702262#,,,,*555314#
---
THURSDAY, SEPTEMBER 22, 5:00 PM: The Republican Party of Langlade County will host special guest Harry Wait
The Republican Party of Langlade County will be hosting their monthly meeting this Thursday at North Star Lanes in Antigo. Harry Wait as our special guest speaker. Harry was recently charged with election fraud by the corrupt Attorney General Josh Kaul and now faces 13 years in prison for exposing the weakness and vulnerabilities of 'MyVoteWi.com".
Harry is a courageous Patriot and deserves all of our support. Come to our meeting and shake hands with a real live, history making, American Hero!
When: Thursday Sep. 22nd, 5:00 Social. 6:00 Meeting.
Where: North Star Lanes
400 Prosser Pl
Antigo, WI 54409
You won't see this anywhere else! Bring a friend!
---
Senator Ron Johnson on Friday, Sept 23rd!
Location: Rock-K-Ranch, 2372 Day St, Greenleaf WI 54126
Date: Friday, Sept 23. Our meeting will start at 5:45 pm sharp!
Check out more about Sen. Ron Johnson at: Wisconsin Facts- Just the Truth: wisfacts.com and share this website widely!!!
---
Turning Point Action presents Governor Ron Desantis Unite & Win Rally with special guests: Senator Ron Johnson & Governor Candidate Tim Michels.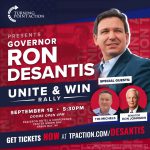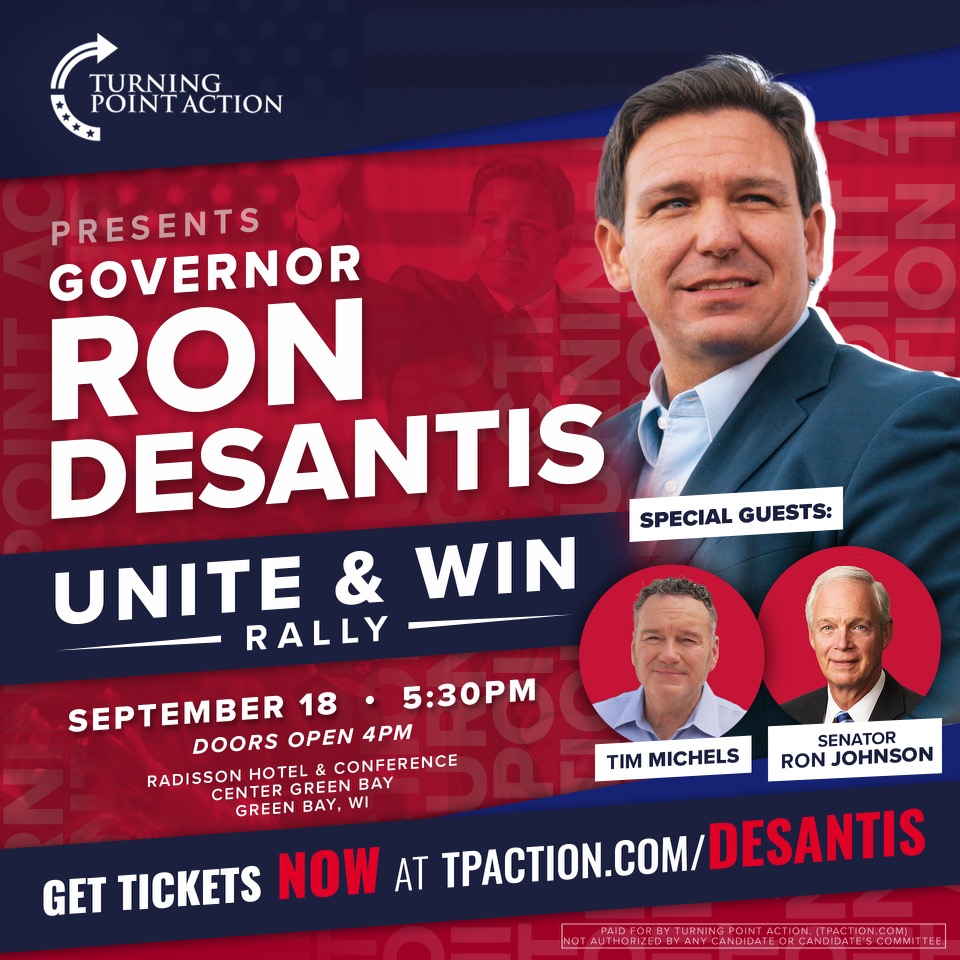 Date: Sunday, September 18th, 5:30 pm (doors open at 4:00 pm)
Where: Radisson Hotel & Conference Center Green Bay
2040 Airport Drive
Green Bay, WI 54313
---
Get your free tickets here: https://www.eventbrite.com/e/unite-win-rally-wisconsin-tickets-416182602367
---
The Wisconsin Conservative Coalition, WCC, of which N.E.W. Patriots is a member, will be holding a"WCC Legislator Town Hall"
Location: Lawrence Town Hall, 2400 Shady Court, De Pere WI 54115
Date: Saturday, September 17th. Social/ light refreshments at 8:30 a.m. Town Hall 9-11 a.m.
We will engage in a moderated discussion with area State Legislators.
The public is invited and there is opportunity for Q&A.This is the 15th WCC Town Hall and the three topics that we have chosen for discussion are:
1) Reining in Wokism in WI Schools
2) Election Integrity
3) Legislative Response to Riots and Mass shootings.
For more info visit wi-cc.com